Tom Bove and La Mascaronne in this week's Wine Spectator
30.10.15
Repair Man
After Miraval, an American in Provence continues his renovation spree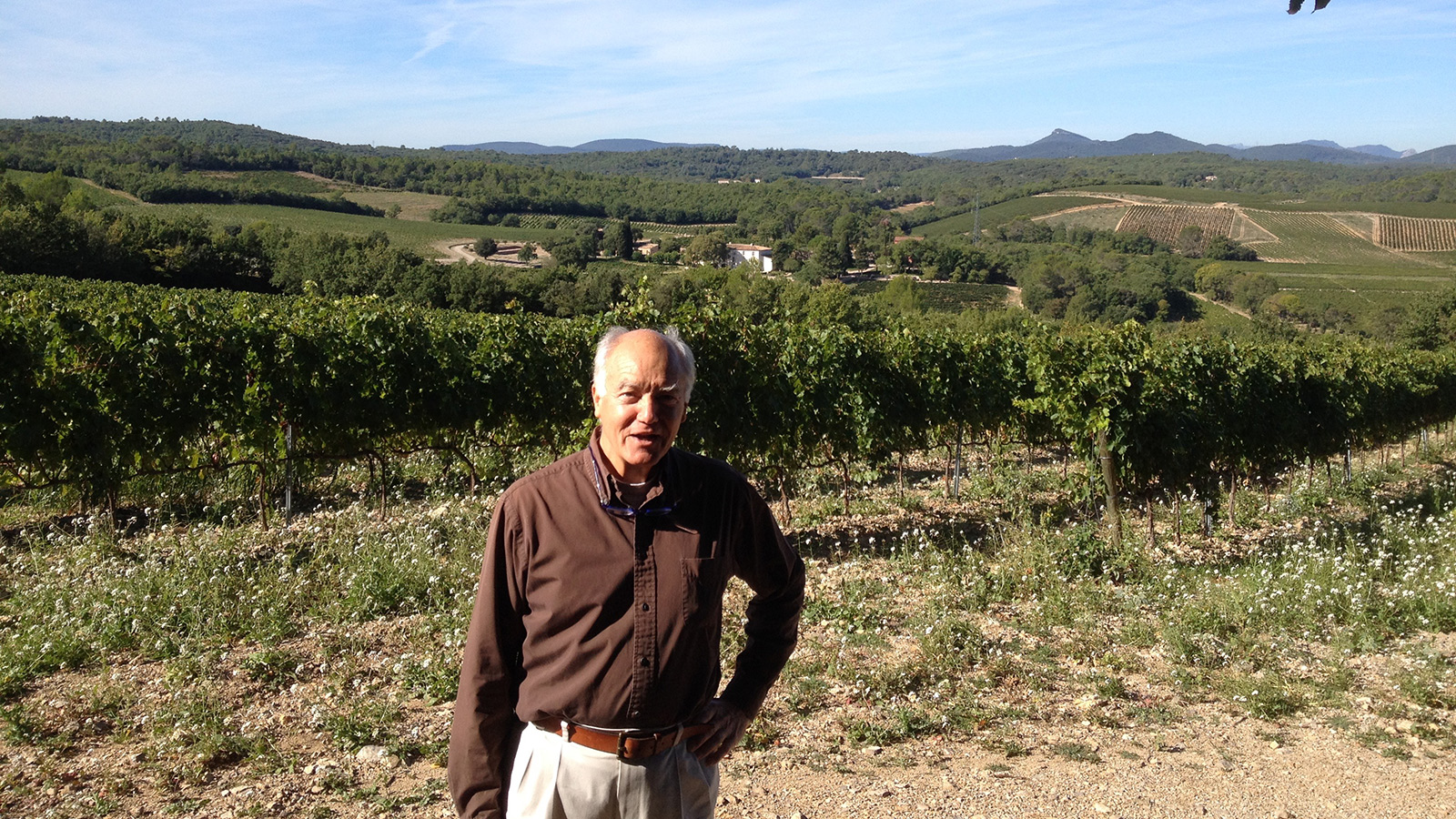 ---
Tom Bove can't help himself.
The 72-year-old American engineer and businessman–turned–wine producer continues to buy and restore neglected Provence wine estates.
"I love rebuilding things. I like not screwing things up," Bove says one cloudless harvest day on a vineyard hilltop of his Château La Mascaronne. "I only touch them if I see there's an underlying beauty to bring out."
Bove has a rare touch. In 1993, he convinced his family to buy Provence's historic Château Miraval, where he renovated miles of antique drystone terraces and the majestic 18th-century manor, replanted vineyards, converted to organic farming, and brought back winemaking. In 2012, he sold the 1,000-acre package for $60 million to Brad Pitt and Angelina Jolie.
A former Navy officer who has retained an athletic military bearing and a bright, boyish smile despite his years and thinning white hair, Bove isn't slowing down. He still helps run Rochem, the worldwide wastewater-treatment systems company he founded in 1972, while growing his wine business that he calls a "hobby" and a "sickness."
But Bove's main fixation is La Mascaronne, where he lives in a 19th-century farmhouse next to the winery. The estate's 200 hilly acres are divided between vines and oak forests. Here—midway between Miraval, about 20 miles northwest, and the coast of Saint-Tropez to the southeast, Bove makes a total of 10,000 cases a year of six wines, including his main line La Mascaronne red, white and rosé and a small-production Guy Da Nine line fermented in Bordeaux barrels.
Bove stands atop his prized Othello vineyard, named for his deceased mutt whose remains are buried here, and kicks at the fist-sized limestone that carpet his vineyards. "I bought here for the rock," he explains. "Mascaronne is all rock. To make wine on rock, you have to do an incredible amount of work, but if you do it, you can get fabulous results."
The vineyard is planted to 5 acres of Cinsault—a major component of his rosé (with estate-grown Grenache, Mourvèdre and Syrah from other vineyards)—and Bove pauses to sample some of the dark ripe fruit. "My grandfather would say, 'You have to taste the grapes!''' comments Bove, the grandson of Italian immigrants. As a youth in Marion, Ind., he helped make the family wine from purchased grapes.
Bove studied engineering at the United States Naval Academy, worked in the Navy's nuclear submarine program, and then travelled to Europe for a civilian job. After making his fortune with his own company, Bove and his wife, Jane, discovered Miraval, moved in and filled it with their five children.
Bove teamed with the noted Provence enologist Emmanuel Gaujal; keeping yields low, Miraval produced noteworthy whites and a rosé called Pink Floyd. (In the 1970s, the band had recorded some of the songs for The Wall at a studio on the property.)
Then in 1998, tragedy struck. Bove's wife died in a Swissair flight crash en route from New York. The workaholic Bove buried himself in work and, in 1999, bought the struggling La Mascaronne to add to his challenges.
"The whole place was a big ugly mess," Bove says of the estate.
At La Mascaronne, he confronted its daunting amount of rock. Before he replanted vineyards, teams excavated boulders, crushed stones and, in some cases, moved them to reshape hillsides for better exposures. "It was only five years ago that I was able to go organic—because of the stones," Bove says.
Miraval's cooler clime produced more delicate wines, particularly rosé, says Bove, who calls La Mascaronne rosé "more robust, with bigger flavors." Wine Spectator rated the past three vintages—2012 to 2014—of La Mascaronne Quat'saisons at 87 or 88 points.
La Mascaronne's wines are now made by Laurence Berlemont, who took over after Gaujal, his partner, retired in 2011. The reds are dominated by Syrah (blended with Cabernet Sauvignon, Grenache and Mourvèdre) and the whites by Rolle, the local name for Vermentino.
Bove has a vision of owning a varied portfolio of boutique Provence wines from estate grapes. In addition to La Mascaronne in the Côtes de Provence appellation, he kept a 300-acre former slice of Miraval with 20 acres of vineyards in the Coteaux Varois en Provence appellation; from it, he released 500 cases of 2014 rosé, under the name Château Mira Luna. In 2008, he purchased another small estate, Bomont de Cormeil in northern Provence's Côteaux du Verdon, where he now makes about 1,200 cases of barrel-fermented red and white from Syrah and Viognier.
This year, Bove bought La Mascaronne's neighbor, Domaine La Bernarde, with 75 vineyard acres. He plans to make a distinct red there and use other grapes to increase production of his Mascaronne rosé. But his prime motive for the purchase was gaining control of the long, poorly maintained, rutted dirt access road leading across La Bernarde to his property.
"I'm a very tidy person, and that road is a disaster." Bove smiles, adding, "I didn't buy it just for the road. It has some very good terroir."
Newsletter Spring 2014
29.05.14
                                   Newsletter Spring 2014  
La Mascaronne Rose Quat'saisons  2013
The vintage 2013 continues in our tradition of high quality  as confirmed by the recent medals received in the best National wine Competitions.  Gold Medal at the Vinalies Internationales (the Winemaker's own competition)                                                                      
For all our export clients, International recognition  may be more helpful and we are pleased to communicate that the Wine Enthusiast  selected Rosé Quat'saisons 2013  with 90 points. These medals represent welcome recognition to the entire Mascaronne team for their attention to detail at all stages of  production. The team very much values your loyalty and repeat orders vintage after vintage 
The season has started early,  consolidating our position in Europe and on international new markets, : Canada, United States and Australia where we are progressing surely. Many of you have already given us a projection of your needs particularly for the big format bottles (magnums and jeroboams produced on demand). Do not hesitate to come back to us shortly, it will be helpful to prepare our last bottling and to clarify our stock for the summer season.
We have again produced in 2013 our unique Rosé fermented and aged in barrel : the Guy Da Nine 2013 will be ready in the next weeks…..be patient but confirm your needs as well if you have selected this rosé for the autumn season,. Guy da Nine 2012 is drinking really well and is a perfect rosé to fit with food or to discover by the glass!
Les Grands Rouges de la Mascaronne
Selected in the Guide Hachette des Vins 2014, the Fazioli 2011 is the perfect expression of the Terroir of La Mascaronne! With an amazing great personality, the vintage has already convinced most of our national and international distributors. We just received a Gold Medal for Fazioli 2011 at the Wine Competition in Mâcon                                                             
Thanks to many outstanding vintages and the exceptional terroir, La Mascaronne is judged amongst the top Domaines of Provence for its red wines. The vintage 2008 is the one of the finest examples of our long-lived red wine,  and also still available is the wonderful Guy Da Nine 2007, Gold Medal at the VInalies Internationales.
La Mascaronne White Vita Bella 2013
The production of White is still in limited quantities until the new Rolle plantations come into maturity.  The originality comes from the blending of very old vine Ugni-Blanc and young Rolle. It confers to this wine a unique specificity and  was awarded Silver Medal at Mâcon for the recently released new vintage 2013
Latest news from the Domaine
We are always very pleased to meet you at the national and international wine fairs all through the year ! Your presence makes them successful and we love to have your direct feedback!                                                                                                                                                                        
"En conversion" towards full organic status, we expect to be certified organic with the vintage 2015. In the meantime, and as always, we produce our wines with a philosophy based on the respect of the environment and the terroir, resulting in the most elegant wines.                                                                                                                                                                                       
We are working on a new big plantation of five hectares called Cinque Terre. We are renovating and constantly improving the Domaine to arrive at certainly one of the most beautiful Terroir in Provence.                                                                               
We thank you for your great support for the entire range and particularly for our latest wines : The Viognier 2012 from Bomont de Cormeil, made in the same style as Condrieu.  Bottled just before Christmas the 2012 Syrah has already been tasted by most of you. Both wines are available to ship with your Mascaronne orders.
We wish you a great season with successful sales !   Fanny in France: +33 6 08 10 72 48                                                                   SCEA Château la Mascaronne, RN 7, 83340 Le Luc en Provence - Tel: 04 94 39 45 40 – Fax: 04 94 60 95 85 – Email: fanny@mascaronne.com
Wine Advocate - 91 points for Quat'saisons Rosé
17.06.13
Robert Parker has recognised the quality of Quat'saisons Rosé with an excellent review and a score of 91 points
2012 Château la Mascaronne Quat'Saisons Côtes de Provence ($20.00) 91
A quintessential Provencal Rosé that's made from 70% Cinsault, 16% Grenache and 14% Syrah, the 2012 Quat'Saisons offers up a light pink color to go with mouthwatering aromas and flavors of wild strawberries, rosé petal and salty minerality. Medium to light-bodied, juicy and gorgeously fresh and quaffable, with solid fruit and texture, it doesn't get much better than this for a hot summer day and this beauty should be purchased by the case. [Drink now-2013]
Cuisine et Vins de France
12.06.13
Fabulous tasting notes for Quat'saisons Rosé from one of France's top gastronomic magazines:
Quat'saisons 2012 - Les Raisins du Coeur
Gouté tot dans l'année lors d'une dégustation parisienne de vins provencaux, ce rosé sortait déja du lot avec sa fine note de menthe et ses parfums épicés. Degusté a nouveau et cette fois a l'aveugle, Quat'saisons confirme sa place. Pointe vive, parfums floraux et vivacité, trois atouts essentiels aux rosés.
La Mascaronne awarded Prix d'Excellence - Twice ! - at Vinalies
12.06.13
We are delighted to pass on the great news that La Mascaronne has been awarded the prestigious Prix d'Excellence for its  
2012 Quat'saisons Rosé,  and for  
2011 Cuvée Guy da Nine Blanc 
at Vinalies Nationales. 
Vinalies is special because it is the Oenologues' own organisation to which they submit their preferred wines. Then, awards are limited to just 30% of wines submitted. So a good result here is very gratifying and deservedly celebrated by our winemaking team. 
Decanter Magazine - Fine Wine Encounter France, London May 18th
24.04.13
La Mascaronne has been invited by Decanter Magazine to showcase its range of wines at London's Landmark Hotel on May 18th. Come meet Tom Bove and taste from among the eight vintages on offer from our Chateau and Confidentielle productions. Tickets from Decanter.com
La Mascaronne wines available in Sydney, Australia
25.02.13
Felton's Global Grapevine celebrated the first night of Summer on December 1st with a Fete de Provence.
Served under the stars in the forecourt of St Mary's Cathedral the spectacular Provencal menu was created by the renowned chef Damien Pignolet to showcase the Chateau and Cuvee Confidentielle wines of La Mascaronne,  served with each course.
Concerto in Amsterdam
25.02.13
Newsletter Winter 2013
20.02.13
ROSE AOC Côtes de Provence Quat'saisons 2012


Last week we gathered together for a wine tasting under a bright blue sky of Provence - which augurs well for the New Year! We can confirm an excellent vintage.

The different cuves were tasted and amongst our oenologues, maître de chais, and chef du culture, we decided on the final assemblage for the Quat'saisons 2012. We have decided to select only wines from the best vats so as to continue to offer a great and consistent quality year after year. The grapes are grown on our own 35 hectares and vinified in our cellar. With remarkably low yields for the Appellation we demonstrate our belief in quality over quantity. Our blend will be mainly Grenache which offers a pale pink color, elegant nose and refined taste with Cinsault and some Syrah that helps to give structure and expression of the terroir.

The first bottles will be ready for tasting in a few weeks and we will be pleased to taste them with you.

With a higher demand on the big bottles the last few years, we will offer the Rosé Quat'saisons in regular bottle, magnum, Jéroboam and Réhoboam on demand.

Rosé can be enjoyed all year round so you will now become our Ambassadors for «Quat'saisons»!

ROUGE AOC Côtes de Provence 2009

The sloping and terraced hills on which the red grape varieties of Syrah and Cabernet Sauvignon are planted, are covered with small stones. This exceptional terroir yields great and long-lived Reds which we age in our cellars until they are in the perfect condition for drinking. We are now offering the 2009 vintage. The last tastings have been really impressive. The 2008 is also available with a light oak aging and more complexity for clients with that propensity.

The Whites of La Mascaronne

In 2009 we were so convinced by the quality of the harvest that we decided on a first bottling of white wine from our old vineyards of Ugni Blanc. Fermented and aged in new oak barrels for 6 months, the result was a beautiful opulent, well balanced and amazing white. This became the Guy Da Nine reserve Cuvée. This has evolved with our Rolle cepage.

After tasting with our oenologues early January, we plan another tasting in a few weeks to decide on our last blend for our Cuvée Vita Bella 2012 for the Château range. We expect to show the first bottles of both these limited cuvées at Prowein in March 2013.

Latest news from the Domaine

We would like to welcome you on the Domaine when you get a chance to visit the region

We expect to increase our production year after year by replacing any non–productive vines, and with new plantations. We are doing amazing transformative work on the rocky slopes and stony terraces of the Domaine while taking the greatest care of our vineyards and the soil.

La Mascaronne website has been updated and new brochures have been created with the entire range.

Come visit us at Prowein from the 24th to the 26th of March and Vinexpo in June 2013

For more information contact Stephen in the UK: +44 7957 367350 or Fanny in France: +33 6 08 10 72 48